$50 Certificate For Only $25!
THIS IS A BUY NOW, PRINT NOW OFFER.
NO CERTIFICATES WILL BE MAILED.
Play It Again Sports
www.playitagainsportsbiddefordmaine.com
473 Alfred St. - Biddeford, ME 04005 - 207-602-6066
315 Marginal Way - Portland, ME 04101 - 207-773-6063


Play It Again Sports is your Winter Sports destination this season! They specialize in hockey, recreational skating, skiing, snowboarding, cross country and all things fun on the ice and snow! When it comes to fitting sports equipment, they know their stuff. Their staff members are trained to provide athletes, serious and recreational, with the best possible fit in the gear they need. They make sure you have the right equipment for your sport - and that it performs for you.
TRADE IN !! TRADE UP !! AND SAVE !!
Trade in your used equipment today and apply your store credit to your new or used purchase and save! Bring in your quality used sports equipment to Play It Again Sports. Kids outgrow sports equipment so fast it's amazing. If your sports gear is outgrown and used, but not used up, bring it in to Play It Again Sports to save on your next ski, skate, and snow sports purchase today!
FULL SERVICE SKI SHOPPE AND SKATE SHOPPE
Play It Again Sports offer full service Ski and Skate Shoppes to take care of all your ski, snowboard, and skate needs. Adjustments, Sharpen & Wax, and expert Skate Sharpening and Repairs all at Play It Again Sports!
Play It Again Sports is your full service sporting goods store - we are your destination for all sports - lacrosse, field hockey, youth football, soccer, baseball/softball, golf, swim, and for all those New Year resolutions, they are your home for all of your fitness and exercise needs!
They are open 7 days a week, Monday to Friday 9 a.m. to 8 p.m., Saturday 9 a.m. to 6 p.m., and Sunday 11 a.m. to 5 p.m.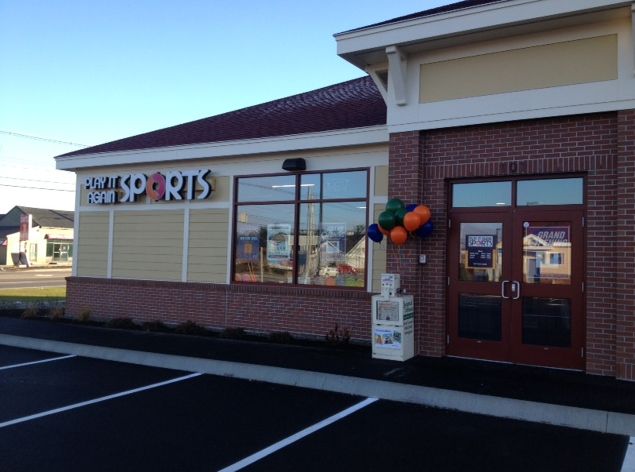 (PH)